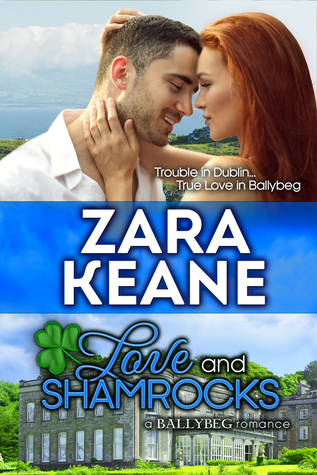 *I received a free copy of this book from the author in exchange for an honest review, but all opinions are my own.*
"It adds a certain je-ne-say-whatsit…"  —Buck
Inebriated idiots, murderous mobsters, fraught families, sexy sergeants, and loads of laughs–this book's got it all.
Clio and Sean–a woman with a sketchy past and a member of the Guard–seem like polar opposites. He follows (and enforces) the law, and she has a history of breaking it. Sometimes, though, love is above the law. The question is, will their burning attraction and growing feelings be enough to overcome their heavy pasts and the gangster holding a tab on Clio?
"I love you," he said, and meant it with an earnest intensity he'd never experienced before.  "Now dry your eyes and don't get shot."
Of all the Ballybeg men, Sean is my absolute favorite. Maybe it's the uniform, or maybe it's the quiet strength and sharp wit–whatever the case, he just does it for me. And Clio is absolutely real and relatable, and I admired her spunk and strength in the face of adversity.  
Keane 
crafts their romance with a nice realism and lack of mushiness that suits a somewhat jaded policeman and a woman with rough past.  The balance was beautiful, to the point that, even in tense moments, there was humor that had me laughing out loud.
There was one thing this book left me wanting: more!
You can get your copy of Love and Shamrocks at the link below.
All of the Ballybeg books can be read as stand-alones, but if you're new to the series, I highly recommend 
Love and Shenanigans 
and 
Love and Leprechauns
, the other full length novels in the series thus far.  Click the titles to read my reviews and find purchase links!