Earlier in the month, I
reviewed
Impossible Choice
,
the latest in the Unchecked series from author, Sybil Bartel. Today, I am happy to announce that I had the opportunity to interview Sybil (and I
might
be fan-girling…just a
little
). Without further ado, the nitty gritty straight from the woman of the hour!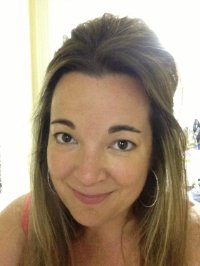 Thank you SO MUCH Amber for hosting me today on Room On The Shelf! I'm so excited to be here and I love your questions, I can't wait to get started! But first, for those of you who don't know me, my name is Sybil Bartel and I'm a Contemporary Romance and New Adult Romance writer for Harlequin's Carina Press. And I kinda have a thing for sexy alpha Military heroes and bad boy rockers. So, without further ado, here are Amber's awesome questions and my (Sometimes serious, sometimes silly) answers.
1) What's YOUR story? Why did you start writing?
Thank you for asking this question, Amber! I haven't been asked this yet and to be honest, this is the first time I'm sharing this on social media. So, here goes. I've always loved to write. My first novel was a loooong paranormal YA (who doesn't want to be JK Rowling, lol!) that went nowhere. It was pretty bad. But then life threw me a bit of curveball. My son, who was seven years old at the time, was diagnosed with an incurable genetic auto immune disease. My world was shattered. I was devastated and angry and lost. I wrote NO APOLOGIES (my debut novel) in six weeks. The hero Graham? He became my therapy and helped me come to terms with my new way of life. I loved being able to poor my feelings into characters and see what they did with their circumstances, so I kept writing and am thrilled to be releasing my third novel. I'm grateful now for the path that led me here and I take each day as a gift. And today, my son is doing pretty well!
2) Do you have any strange or unusual writing habits? (And googling eye crack doesn't count…that's totally normal, right?!)
Hahaha! Man Candy is a MUST for inspiration! But let's see…strange? I think I'm kinda boring in that department. I write at my kitchen table and I'm sentimental about my super old Dell laptop. It has a copper colored cover. It's pretty. And temperamental. And I might have named it. *Coughs* Pilot *Coughs*
3) Tell us a few quirky things about yourself that we might not know. It's always fun to see the person behind the pen!
Oh, you're gonna make me do this, aren't you? Okay, fine. I buy socks at the grocery store. For real, I am a TOTAL nerd! But in my defense, I live in South Florida. It's always warm, except for one or two days a year when we get really cold weather. Then I come unglued. I dig out my pink Uggs and desperately search for last year's socks but can never find them so I rush to grocery store, shivering like its twenty below instead of fifty and I buy the most colorful pair they have. Last year it was rainbow striped socks. Then I put them on (yes, with the Uggs to) and hide inside until the weather starts to cooperate again. I don't do cold well. At all.
4) If you were an animal in the zoo, what would you be?
Giraffe! Blue tongues rock! I kinda wish I had a blue tongue. What a conversation starter that would be…Hey, wanna see my tongue?
5) You can only use one curse word for the rest of your writing career: What is it, and
why?
Fuck, seriously? I have to fucking choose? 😉 Well then, I choose fuck! It's brilliantly universal, fun to say, even more fun to scream and doubles as an epic sex moan. What's not to love?
*Amber here! Interrupting the interview momentarily to share a meme that Sybil thought might appropriately illustrate her answer to Question 5…*
6)
Let's talk names. I'm not usually a fan of names like "Blaze" and "Talon", but you really make it work without being cheesy. So, how do you choose names?
If I were being honest here, I might tell you that not all the names in my books are made up. I might say I actually know people with those names. Maybe… Okay, pleading the fifth on that one. But the made up ones? The names that pop into my head out of thin air? I wish I had a witty story about them but I don't. They just sort of rattle around in my brain then settle in. Sometimes I'm happy with them and other times I have to work them into sounding believable. When I can't find a way to do that, I just have another character crack a joke about the name.
7) If you could cast the characters of the Unchecked series in the Hollywood adaptation, who would play them?
Ooooh, that's so hard! Characters usually form in my mind and rarely do I envision them as real actors. But okay, here goes. Can I give you two for every character? Yes? Awesome! (I can never make up my mind about these things!) For Layna…Aubrey Plaza or Janel Parrish. For Blaze…Phillip Winchester or Stephen Amell (I know they are both a couple years older than Blaze but they both have that presence thing going on for them!). And for Talon…Alex Pettyfer or maybe Liam McIntyre…or this surfer I used to know but I don't think I should say his name. Just think surfer. And blonde and hot.
8)
This one is a little cliché, but I always love seeing what published authors have to say: What tips do you have for aspiring writers?
I love this question! And I think it's super important. ALWAYS ALWAYS ALWAYS show the story, don't tell it. I think this is the hardest obstacle for aspiring writers. It's human nature to write in narrative. It's how we think! But in order for a story to be well paced and engaging, it has to have actions and reactions. The best way to do that is to show interactions between characters. I try to never write anything in narrative that you can show as an interaction between two characters. You'd be surprised how much of the story you can accomplish by writing this way. Other than that, I think being a writer is a journey, not a race. So keep writing!
Thank you for all of the awesome questions, Amber, and thank you for hosting me and for all of your support!!! I had a blast!

XOXO
Sybil
And NOW…I have not ONE, but TWO giveaways for you! The first is a $25 Amazon Gift Card giveaway from Sybil and Xpresso Book Tours. (Think of all the books you could buy with that!) I also have a free ebook copy of another of Sybil's books,
No Apologies
to give away to my readers! I've read this one too, and you're going to love it! To enter, comment below with your favorite fun Sybil fact from the interview above! I'll choose a winner October 1st!
For those of you who haven't yet read my review of Impossible Choice, here are the details of the book itself!
Impossible Choice by Sybil Bartel
(Unchecked #2)
Published by: Carina Press
Publication date: August 31st 2015
Genres: Contemporary, New Adult, Romance
Synopsis:
Book two of Unchecked
After her parents were murdered, Layna Blair spent three years on the run—until Marine Sergeant Blaze Johnson stepped in and saved her. With him, Layna knew safety for the first time…but two weeks after shipping out for another tour in Afghanistan, Blaze comes home early.

When Layna sees the jagged wounds covering his body, every truth she thought she knew is destroyed. Blaze is distant and angry and though her heart is shattered, Layna desperately tries to keep their relationship together in the face of another tragedy. When the tenuous bonds holding them together are ripped apart by a revenge-hungry maniac, Layna must trust her survival instinct and bury her past for good.

But the enemy is two steps ahead, and before she can take action, Layna's hand is forced by his deadly demands—save herself or save the man who risked his life for her freedom. Blaze saved her once. This time it's her turn to protect him.

91,000 words
Goodreads: https://www.goodreads.com/book/show/25584499-impossible-choice?ac=1
Facebook reader group: https://www.facebook.com/groups/1065006266850790/
Purchase:
–Amazon: http://www.amazon.com/gp/product/B00XPXLNLO/ref=x_gr_w_bb?ie=UTF8&tag=x_gr_w_bb_ca-20&linkCode=as2&camp=15121&creative=330641
–B&N: http://www.barnesandnoble.com/w/impossible-choice-sybil-bartel/1121934854?ean=9781459290075
Author Links:
https://twitter.com/SybilBartel
http://sybilbartel.com/
https://www.facebook.com/sybilbartelauthor
https://www.facebook.com/groups/1065006266850790/
https://www.goodreads.com/author/show/7893521.Sybil_Bartel